The last few years have seen tremendous growth in the number of Odoo users around the world. At SSI, we too have been riding a wave of new customers through implementation and support services. As a result, the number of tickets that we are opening per week has increased over 400%.
I love our customers.
I consider myself as part of their team. I want them to be successful and I want them to win. I want to see every user save time, money, and cut out waste as a result of our engagement. Unfortunately, unqualified tickets bog our team down and keep us from the innovative solutions our customers hired us to provide.
One line tickets with no context are rarely closed quickly by our team. Screenshots of an error message box, with no understanding of the steps that created the error does not give us what we need to be helpful.

We want the money you spend with us to be on valuable, tangible process improvement, not researching how to replicate a support ticket. Support is inevitable in software, and it's critical to your company's success. Let's partner together to improve the outcome of your tickets.
Having had time to consume some of our internal metrics related to time-to-close I've come to the following conclusions:
We need to constantly improve our processes to deliver quality support.
We need to improve the quality of our responses and the speed that which we provide answers.

Odoo is going to continue to expand it's footprint and it's my goal to keep up with their pace of growth ---> 70% per month! 

We spend too much time trying to understand unqualified questions and cannot properly answer them.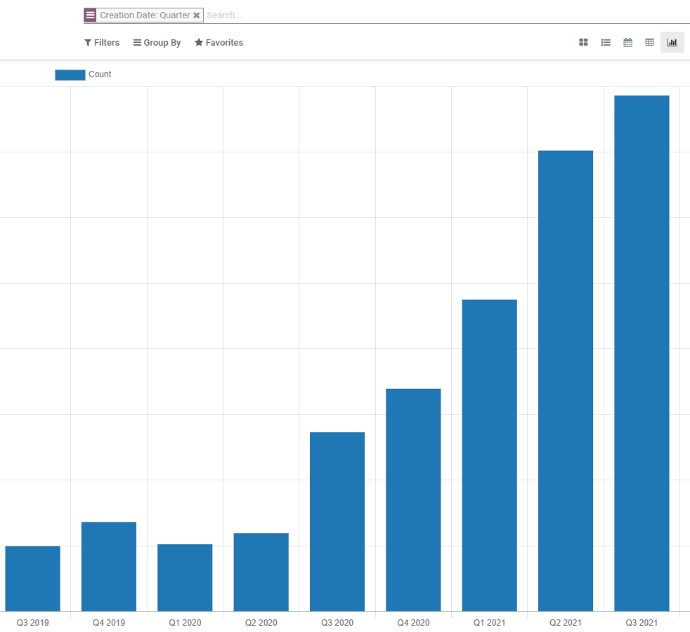 As we take on more customers, we don't want to lose our personal touch. The reason that many clients choose us as their partner is because submitting a ticket to our team is like having an employee in your business look over it. We want to retain that touch, but it's impossible for every employee here to know all aspects of your business.
I've challenged my staff to take a more proactive approach to quickly solving our inbound tickets, but it's going to require more work from our customers to be successful. 
Following these best practices will speed up our response time, and allow us to more fully provide satisfying answers to our customers.
1. Provide Steps to Replicate the Problem
We understand you are busy. Nobody likes to explain things that they believe to be obvious. If you can replicate the problem, please submit that information with your initial request. We may send an employee on a fact finding mission (at your expense) trying to replicate a problem when the steps are obvious to you.
A qualified request includes:
Screenshots or video

Information on the problem's frequency

Steps to reproduce your problem.

A list of users affected

The steps you have taken to try to resolve the issue yourself (so we don't waste time trying the same things).

A specific transaction if one exists that you would like us to investigate (Sale Order Number, etc.)
2. Check With Your Team First
Our customers vary in size from 3 - 150 users. Almost universally we field requests from multiple employees in the same company for the same issue. We highly recommend a SPOC "Single Point of Contact" model for requesting support. The duplication of a ticket can cause confusion and we seek to fully qualify each request, ultimately to find out it's something that we've already reviewed with another user in the same building.
3. Review Documentation First
Odoo has improved tremendously in the past two years with their documentation. You can find over 100 hours of training videos online as well as user documentation. Type your subject into one of these links before opening a ticket and you may be surprised at what you find:
4. Include Additional Context of your Use Case
Odoo has over 40 base applications. We routinely receive tickets from customers who are confused about why Odoo does not do "X". The answer often is that Odoo does these things but it requires proper configuration. I've received, within an hour of each other, two customers explaining to me that Odoo should work exactly the opposite of what the other wanted. A feature for one is a shortcoming for the next customer. This is the nature of the size and scope of Odoo.
Please be patient with us, and provide us with an extreme level of background information. I'm confident we can help given all of the variables at play in your business.
5. Tell us If Something Has Changed
Sometimes things just solve themselves, or you've internally come to a resolution that no longer requires our help. In these cases, let us know so we can keep moving to help you on your next question.
Summary
Providing us with more context in your support tickets will reduce the amount of fact finding we have to do to solve your request. The time saved can be spent to improve your experience through new modules and better configuration. Let's move your business forward together by better qualification of helpdesk tickets.